Even people who have health insurance can be bankrupted if they come down with cancer, says a new report from the American Cancer Society.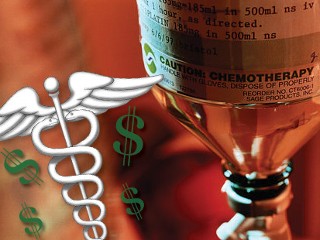 The high costs of cancer care are a devastating burden to millions of Americans -- even those with health insurance.
The Kaiser Family Foundation and the American Cancer Society unveiled a new joint report today that outlined the serious financial consequences families face when a member is diagnosed with cancer. In addition to dire statistics and figures, the report featured the stories of 20 patients who have faced severe debt and other challenges in their struggle to get treatment for their disease.
Some lost their life savings; others lost their jobs. Some found it nearly impossible to find insurance to help them pay for the care they needed. And some had to file for bankruptcy.
John Seffrin, the national chief executive officer of the American Cancer Society, noted during the briefing that these stories, unfortunately, are all too common.