Sony Ericsson are making a big announcement today. The Sony Ericsson W715 is a Wi-Fi/GPS-enabled slider made exclusively for Vodafone, while the Sony Ericsson W508 is a Walkman clamshell with 3 megapixel snapper plus Shake and Gesture control.
The Sony Ericsson W715 Walkman phone is practically identical to the Sony Ericsson G705 that we already reviewed. Wi-Fi (with DLNA), GPS receiver, a 3 megapixel snapper with geotagging and an accelerometer that allows for auto screen rotation and motion gaming are its main selling points.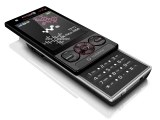 Sony Ericsson W715
Additionally, the W715 is loaded with Walkman goodies such as the latest Walkman music player, TrackID, SenseMe and Shake control. Threaded SMS/MMS (conversation style messaging) is among the latest Sony Ericsson features that's also on board the W715.
As we already said, the Sony Ericsson W715 is made exclusively for Vodafone and uses their turn-by-turn navigation solution called Vodafone Find&Go (as well as Google Maps).
The Sony Ericsson W715 has quad-band GSM/GPRS/EDGE support plus dual-band UMTS/HSPA 9100/1200 connectivity.
The Vodafone exclusive Sony Ericsson W715 will be available in Galactic Black and Luxury Silver. Country availability is yet to be announced.
The Sony Ericsson W508 is a Walkman clamshell that comes with eight interchangeable StyleUp covers (one extra cover included in the retail pack) plus the well-known Walkman features such as external music keys, Shake control, SenseMe and TrackID. The built-in accelerometer also allows for screen auto rotation and motion gaming.


Sony Ericsson W508
Additionally, the nice looking W508 comes with Gesture control much like the Sony Ericsson W380. Gesture control allows you to mute calls or silence the wake-up alarm with a wave of your hand.
The Sony Ericsson W508 has a 2.2-inch QVGA main display plus a monochromatic scratch-resistant 1.1-inch external OLED one with a resolution of 128 x 36 pixels. The device is also supposed to offer 24 hours of constant music playback. Threaded SMS/MMS (conversation style messaging) is also included as with all other Sony Ericsson phones announced today.
A 3.2 megapixel fixed focus camera, quad-band GSM support, HSDPA, FM radio with RDS and 1GB M2 card completes the Sony Ericsson W508 spec sheet.




Sony Ericsson W508
The Sony Ericsson W508 is expected to hit the market from Q2 2009 in both Metal Grey and Poetic White color versions. In either version it will have one extra Style-Up cover in one of eight the available colors: Sunny Orange, Forest Green, Architectural Purple, Mysterious Graffiti, Midnight Summer, Splashed Art, Radial Blue or Street Hip-hop.