Photos of a new fully touch-operated Motorola handset leaked online. Dubbed Motorola Attila, the phone has a strange iPhone-ish theme but looks pretty decent otherwise. According to the source the Attila will be the first Motorola to run on the Windows Mobile 6.1 Pro platform. It is also the first Motorola WinMo device without keyboard.
Another first for Motorola is the trackball navigation that we are mostly used to seeing on Blackberry phones. Some of the highlight features of the Motorola Attila include tri-band 3G with HSPA, Wi-Fi and Qualcomm 7201A chipset. This might suggest a fast 528 Mhz CPU and GPS. The Motorola Attila display will be a 2.8" one with QVGA resolution.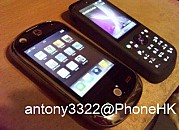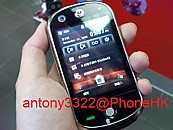 Motorola Attila
We are yet to see an official announcement of Motorola Attila for more information on the release date and the pricing of the phone.