You've probably already seen the amount of leaked phones that we wrote about yesterday. The news today is that there are even more of those. This time it's Samsung turn with a trio of unannounced and yet unreleased GSM handsets - the Samsung Trinity, the Samsung Infinity and the Samsung Pivot.
Samsung Infinity
is obviously set at bringing full touchscreen experience to the masses with a more budget-conscious price. Well we don't know the price in question yet, however we know most of the details about the this feature phone's specs. They include quad-band GSM and dual-band HSDPA support, a 3-inch touchscreen TFT with 240 x 400 pixel resolution and a fixed focus 2 megapixel snapper.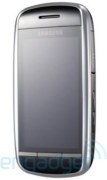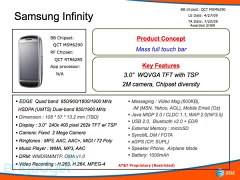 Samsung Infinity
The Samsung Infinity should be able to deliver its promise n July 2009.
Samsung Pivot
is a QWERTY bar phone running the Windows Mobile 6.1 Professional. Besides the 2.6-inch QVGA touchscreen, it packs Wi-Fi and GPS. There's a 3 megapixel camera on board and the Pivot has quad-band GSM and tri-band HSDPA support.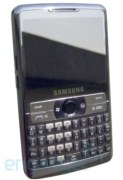 Samsung Pivot
The Samsung Pivot should be out and about by October 2009.
And finally, there's the
Samsung Trinity
. The Trinity is a feature phone and the special thing about it may not be obvious at first glance. It's a two-way slider with the so-called Magic keypad - slide it down and you got a regular 3x4 keypad; slide it sideways and there's your full QWERTY thumboard.
The Samsung trinity has quad-band GSM and dual-band HSDPA support and it's got a large 2.8 inch screen, which however has only QVGA resolution. A 3 megapixel camera and the GPS receiver complete the feature tally.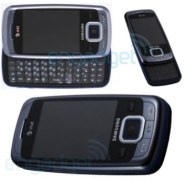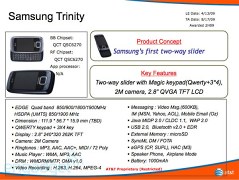 Samsung Trinity