More info on one of the hottest cameraphones of all times, Samsung M8920 just came in. The 12 megapixel 3x optical zoom-equipped monster of a shooter will hit the shelves in the end of Q3 2009 so don't hold your breath just yet.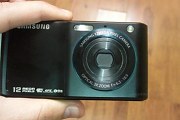 Samsung M8920 Monaco
As if that wasn't sad enough news to all Samsung fans, the Omnia2 will be coming to the market in the late autumn. The successor of one of the most popular WinMo devices ever will appear in October, bearing the name Samsung I8000 Omnia2.

Samsung I8000 Omnia2
Bear in mind however that these dates concern the actual availability, the handsets can be announced earlier so we can learn all the juicy details about them several months in advance of those dates.
Finally it seems that all the guesses that Samsung S8000 Jet will be announced at the Samsung Unpack event on 15th June are correct. Yet another source comes to confirm that the similarities between the leaked official photo and the X-ray one, published on the event official site is anything but a coincidence.

Samsung S8000 Jet